Elly Griffiths – how could you?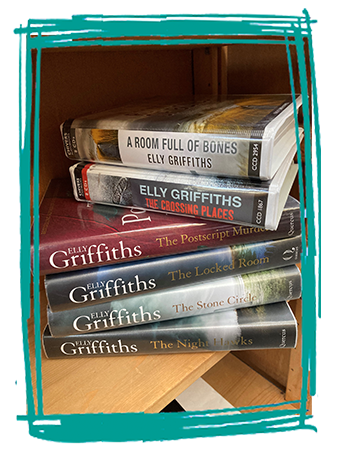 The Ruth Galloway series has it all – archaeology, murder, academic v police worlds colliding, Norfolk, illicit relationships as well as family life. Ruth is a forensic archaeologist who is called on frequently by the local police when very old human remains are uncovered to deduce the manner of death and the age of the bones. Inevitably it results in some connection to a modern day crime or investigation embroiling Ruth in the mystery and bringing her into close contact with Detective Chief Inspector Harry Nelson. Their relationship is key to the tension in their history that resulted in their daughter Kate. But Nelson is married and Ruth remains a single mother.
One of my side interests is archaeology – in fact it was touch and go which course I would study after school. Library studies won in the end but I still did a year of Ancient Near Eastern Studies, being fascinated with discovering and learning about other civilisations. Realistically I don't think I would have hacked the painstaking art of the 'dig' though I still love the Ancient Egyptian programmes on TV from the comfort of my living room!
The Ruth Galloway series is officially addictive with the seemingly endless wait between each instalment as Elly writes stories for her two other series' The Brighton Series and the new series with Harbinder Kaur. I suppose as a writer she enjoys the variety of the different characters and time zones.  In desperation I did try the Brighton series but wasn't as keen. The new one though, featuring Harbinder Kaur, is great and I can see my allegiance shifting as the Ruth series draws to a close. The Postscript Murders is a great introduction to the new series.
Yes, you read that right! The shock news is just out - Elly has announced that the next book to be published next year, the 15th in the Ruth Galloway series, will be the last. The Locked Room is the latest one and is available from branches or to request.
I suppose it can't go on for ever but I'm hopeful that there will be Happy-Ever-After ending for at least some of the main characters. I really can't understand how this series has not been picked up for TV!
Please Elly, no killing off of any of the main characters- there would need to be a day of mourning if either Ruth, Kate or Nelson were to die at the end.  As a choice for an ending I can think of plenty of other happy scenarios – let's face it, Kate and Nelson belong together.