Join the Club – Murder or Penguin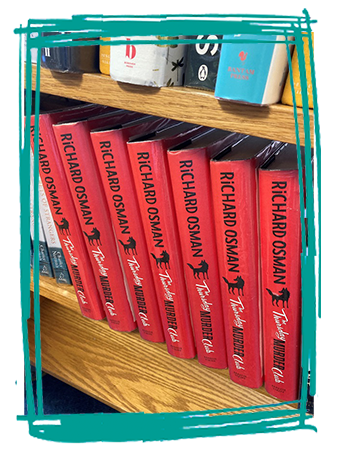 Recently my elderly mother has been been enjoying novels featuring older members of society – she loves a good story and a bit of a mystery and, like half the country, has now read all three of Richard Osman's books, Thursday Murder Club, The Man Who Died Twice and The Bullet That Missed.
Don't be misled however – I can confirm that these books have intergeneration appeal! As well as being read by myself and my mother, my daughter (in her twenties) and her friends have also read and enjoyed them.
The books all feature 4 unlikely friends who live in a retirement village led by Elizabeth, a retired MI6 operative. She has a nose for trouble and leads the others into the shady world of crime and murder. These books fall into the category called Cosy Crime – they are not gory, have an element of humour in them and generally the reader can be sure that the criminals will get their comeuppance and all will end on a positive note.
Search Results for Richard Osman     @richardosman
There are now a number of other 'copycat' titles which follow the same sort trend and I was inspired to listen to the audiobooks by Robert Thorogood – The Marlow Murder Club and Death Comes to Marlow – also featuring an elderly lady, Judith, a crossword creator, an eccentric busybody who teams up with an unlikely pair of co-conspirators. Becks is the local vicar's wife and Susie, a dog walker is branching out as a volunteer DJ. Together the three become embroiled in intrigue and murder and much to the frustration of the local police, begin to investigate and piece together the evidence to solve the murders first. An engaging read, great to relax to, or to listen to as I did on my commute. Robert Thorogood, the author, is the creator of the popular series Death in Paradise.
Search Results for Robert Thorogood  @robthor
If even Cosy Crime is too much for you then my mother would also recommend Away With the Penguins by Hazel Prior. Veronica McCready is 85, and should be past the days of going on adventures but circumstances and opportunity combine to give her the chance to visit Antarctica to visit a Penguin Research Station.  We are introduced to an eclectic groups of characters and as Veronica's visit extends longer than expected due to bad weather the dynamics and conditions in the overcrowded small Station become challenging.
A 'feelgood' novel guaranteed to warm the cockles of your heart (even though a lot of it is based in the frozen icefields of Antarctica!)
The sequel, The Call of the Penguins, continues the story two years later and is just as engaging.
Search Results for Hazel Prior @HazelPriorBooks