Meet the author – Graeme Simsion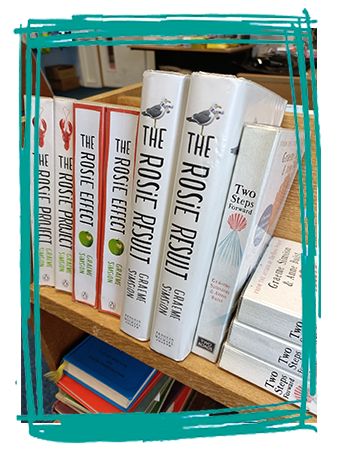 I love meeting authors and recently had the exciting honour of meeting Australian author Graeme Simsion and his wife Anne Buist in Belfast Central Library.

They were travelling through Belfast on their way to the North Coast to do some walking before going down to Dublin.

My colleague Pete and I from Stock Dept sat down with them for a chat about Graeme's writing career which really took off with the publication of his first novel The Rosie Project. It became an international success and was followed by two more in the series The Rosie Effect and The Rosie Result. These light-hearted stories about Professor Don Tillman's search for the perfect wife and subsequent life also serve to offer an insight into the workings of the autistic brain – the need for routine, for set patterns of activities, obsessive behaviour as well as issues with change and the inability to read social situations.

Graeme explained how his work had involved working with Data processors in the IT world, a career that suits the autistic brain well so he worked with many people who were on the spectrum though unlikely to have been diagnosed in those days. Their quirks were accepted and accommodated as their brilliance balanced out any disadvantages.

We are all aware in the spike in the diagnosis of autism in the present day and the need for better understanding and acceptance of those on the autistic spectrum. Reading 'The Rosie Books' will do just that – without having to read any boring text books. Graeme uses humour to carry the books along and the character of Don is colourfully described. It is the logic of his actions in the first person that is the icing on the cake – it informs us of his thought patterns, the analytical steps that actually make sense when explained though invariably his actions are misconstrued by others. His attempts to 'fit in' to social settings are humorously told though poignantly demonstrating society's unforgiving attitude to those who don't conform to conventional expectations. Rosie helps Don to break away from some of the rigidity of his behaviour patterns and the subsequent books takes their relationship to another level as they move continent and start a family.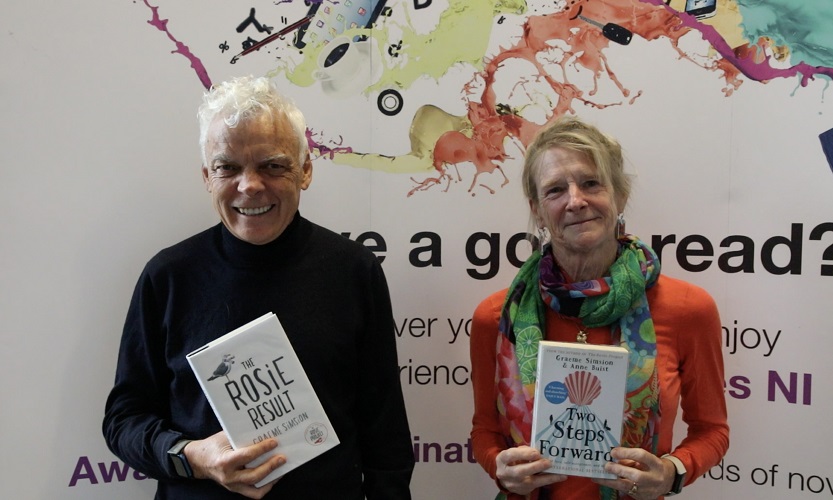 Photo: Author Graeme Simsion and
his wife Anne Buist
in Belfast Central Library
The books obviously touched a nerve when they were first published and their longevity is proof of their appeal. I know that I have recommended them multiple times to parents of autistic teenagers who were struggling to understand their children, as well as to other staff as a fun way to build awareness in their daily contact with the public.
Graeme's wife Anne has also co-authored two of his subsequent books. They are keen walkers and have walked the Camino de Santiago a couple of times. They have used their experiences to write about it in Two Steps Forward and Two Steps Onwards, fictionalising their adventures and creating engaging characters – not based on anyone they actually met on their travels I was assured! They are basically mid-age love stories set on the Camino on the green slopes and dusty paths of Southern France and Northern Spain. Very readable and enjoyably entertaining!
Be warned though – reading them may give you the urge to walk the Camino! Are you ready?

Click to find books by Graeme Simsion on the Libraries NI Catalogue

Photo: Graeme Simsion and Anne Buist in the Fine Book Room Belfast Central with Heritage Manager Catherine Morrow.