When my love of books began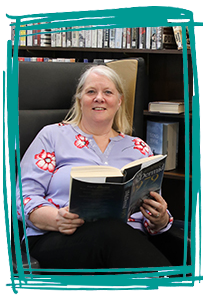 I was born in Co Down but moved to the Canary Islands with my family when I was 6 years old. I attended an English speaking school which was across the road from the English Library which was very handy - I was often to be found there after school with an armful of books. My parents encouraged my love of reading from an early age and they organised regular monthly deliveries of books for me from 'home' – they were generally Enid Blyton or Malcom Saville books which I read and reread voraciously until the next delivery. The library offered very limited choice of children's books and it wasn't long before I had exhausted their selection and attempted to move on to more salacious titles – much to the indignation of the volunteer librarians. I talked my mother into borrowing lots of Agatha Christie books and worked my way through those as well. I remember my unbridled delight when another expat family packed up to move on and arrived round with a big box full of the Chalet School books (by Elinor M Brent-Dyer) I was well and truly hooked!
So began my love of reading and after returning to Northern Ireland and doing my 'library exams'. Then began my library career which started out in Bangor Carnegie Library. I have hosted numerous Reading Groups both as part of my work and in my own time – my family are never quite sure where my 'work' starts and ends! I read all sorts of books, mostly fiction, in various formats, in the car (on audio), on my phone (eBook) and at least one physical book as well. As long as they are markedly different I can cope with the variety. I used to never let a book beat me and would always finish any book I started but as time moves on I have decided that life is too short – and if I really hate a book after 100 pages I grant myself permission to put it down.