Have you read any Matt Haig?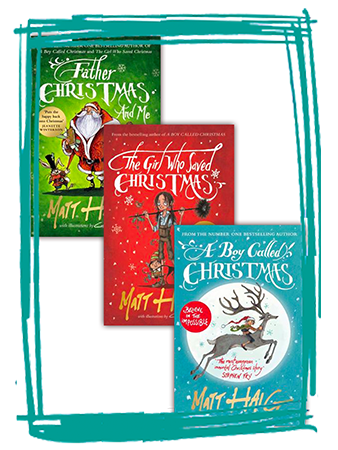 If you are searching for a magical book about Christmas to read to or with your Primary School children (7+), look no further than the popular author Matt Haig. He has three books in his Christmas series and they have been described as Roald Dahl meets Elf – humorous, light hearted, and full of Christmas magic Search Results for matt haig (Libraries NI Catalogue)  A Boy Called Christmas is the first one, followed by The Girl who Saved Christmas and then Father Christmas and Me - perfect for the build up to the 'Big' Day.  A Boy Called Christmas has been released as a movie too but as always I would advise to read the book first!
Matt Haig has also written some adult books which I can highly recommend too. The Midnight Library is an obvious choice for me, being a Librarian! If you haven't read it yet – why not? But it's never too late to join the party! You do need to suspend disbelief as you read it but there is nothing wrong with flights of fancy at the best of times! Other titles of his are How To Stop Time (a new take on time travel which I really enjoyed) and his personal thoughts on beating depression in Reasons To Stay Alive and The Comfort Book which has been described as 'a hug of a book'. He shares very openly about his mental health struggles hoping to help others by sharing his own experiences. It's a good opportunity to remind everyone that Christmas can be a hard time for many people in the midst of the madness of parties and family reunions.
Be kind to each other and if all else fails get lost in a good book! I know I will be!
Remember that although our branches will be closed from 24 December until 2 Jan (inclusive) our digital services will remain available throughout the holidays so our Libby and BorrowBox apps will be there 24/7 as always for you to borrow and download ebooks, eAudiobooks, eMagazines and access online Newspapers.